Background
Brenne is the world's first single malt aged exclusively in both new French Limousin Oak barrels and Cognac casks.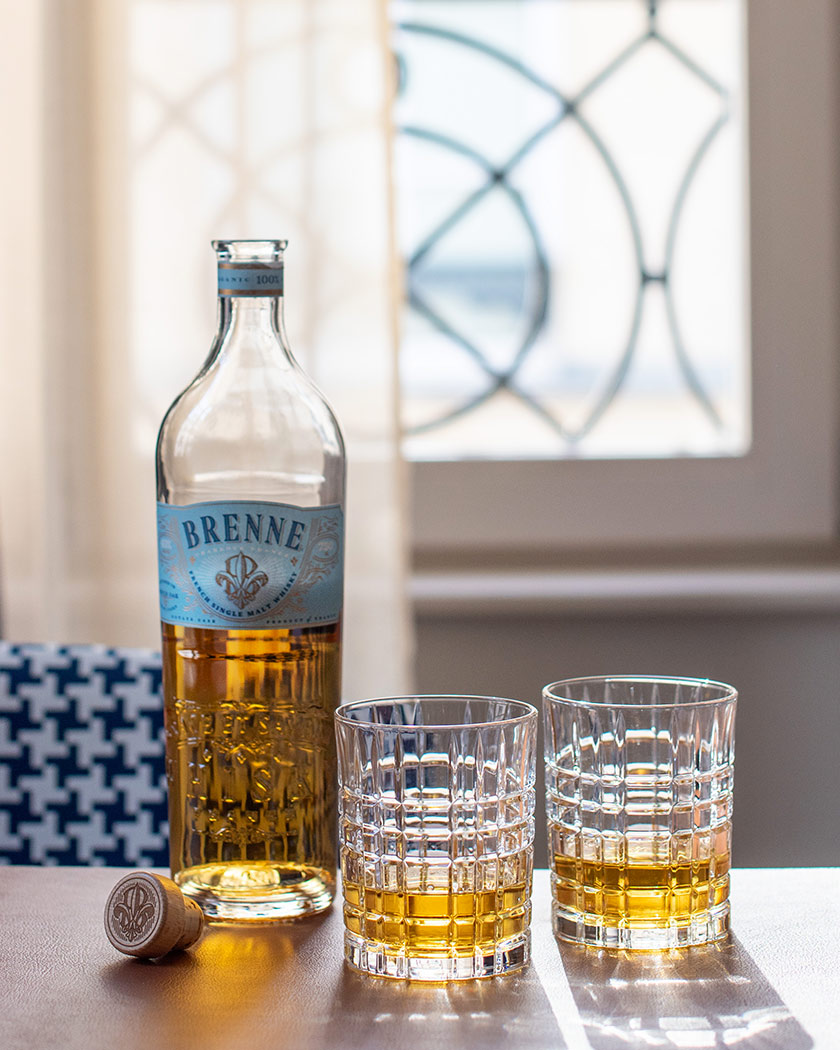 Founded by former ballerina turned whisky entrepreneur, Allison Parc, Brenne was started with Allison's small life savings and a big dream to show terroir (a sense of place in the smell and taste) is possible when making great single malt whisky. She created Brenne from seed to spirit, with a third-generation Cognac maker at this family farm-distillery in the heart of Cognac, France. First released in New York City in 2012, the award-winning whisky embodies the elegant nature of its French terroir and brings a completely new style of French single malt whisky to the rapidly emerging world whisky segment.
Allison self-distributed the first bottles of Brenne via Citi Bike in Manhattan, placing the product on the shelves of the city's top establishments and retailers. The flagship Brenne Estate Cask sold out within two months and Allison expanded distribution to 35 states, and France, over the next few years. Her second expression, Brenne Ten, was introduced in October 2015; only about 300 cases of the limited-edition 10-year-old single malt whisky are available each year.
On March 8, 2017, International Women's Day, Allison signed a partnership deal to align the brand with distributor groups across the country. Today, Brenne is sold in all major markets and in top bars around the world.
Brenne is crafted at a third-generation farm distillery located in Cognac, France, which has been producing eau de vie since the 1920s.
Our whiskies begin in the fields of Cognac, with its famous mineral-rich soils and mild microclimate. Every ingredient is sourced locally, 100 percent organic, and non-GMO. Brenne is fully certified Organic by both EU and USDA standards.
Two types of heirloom barley grown on the estate are the starting point for Brenne. After malting, a proprietary strain of yeast that has been in the distiller's family for generations is added for fermentation, creating a beautifully floral mash.
This is then twice-distilled in an alembic Charente still, creating a fruit-forward new-make spirit that pairs perfectly with the floral notes of the starting mash — quite a departure from new-make created on pot stills, the classic choice for traditional single malts.
The liquid is then rested in our signature barrels, new French Limousin oak and Cognac casks, before being proofed with water from the Charente river for bottling. The result is Brenne: proudly the first single malt in the world to be aged exclusively in these two barrels.
This combination, along with our other techniques, gives the enjoyer a true sense of French terroir in the taste and smell of the whisky, and has created a profile rich in fruit-forward, floral, and creamy notes that is exceptionally smooth and sets us apart from every other whisky.